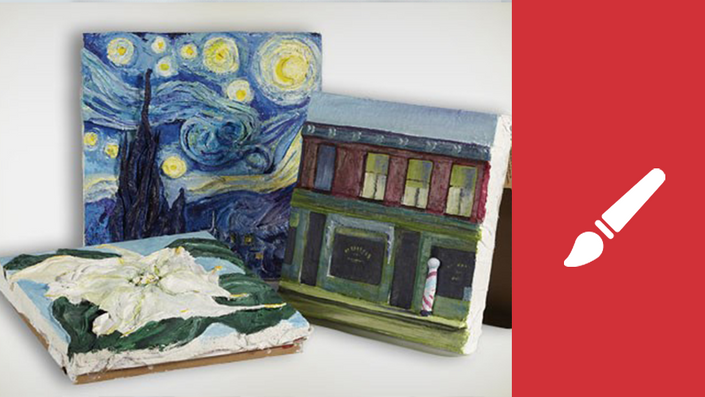 Masters in Plaster
Inspired Masters Techniques in 3D
Give dimension and texture to an original 2D image using only a few materials. These pieces of artwork in this webinar were created to emulate works of master artists and give them actual depth and texture using the plaster medium Plast'r Craft®. These pieces are also a bit unusual by using a pizza box for the canvas. This creates a finished self-standing piece but also is excellent during the execution of the work, as it serves as an easel. The artworks used as resources for this lesson include: Edward Hopper - Early Sunday Morning, Vincent van Gogh - Starry Night and Georgia O'Keeffe - Jimson Weed.
Webinar Objectives
After completing this 30 minute webinar, participants will be able to...
Research the work of various artists to observe the use of color, depth and texture.
Study the patterns, designs and textures found in the layering of the images in the piece and determine the placement of those in the proper ratio.
Learn and experience the process of layering and modeling of plaster strips using the Plast'r Craft® medium.
Study the artist's use of color and develop their skills of color mixing and blending.
Your Instructor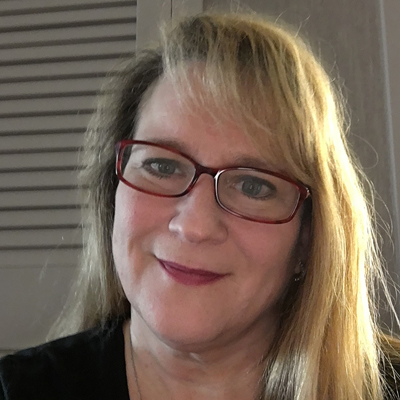 Nadine Dresbach received her Masters and Undergraduate Degrees in Art Education from Kent State University. She began her teaching career at Canton City Schools and Kent State University in Ohio. In 1995 she was hired by Sax Arts and Crafts as an Art Consultant and Category Sales Manager representing School Specialty at conferences and professional development sessions. Nadine also creates artwork and lesson plans for the company. Her other teaching experiences include instruction and Internship Supervisor for Winthrop University in Rock Hill South Carolina as well as work for the Rock Hill and Union County School Districts and St. Anne Catholic School.
Outside activities include past and current memberships in the Ohio Art Education Association, South Carolina Association, Judging for Scholastic Art Awards, work with the Arts in the Basic Curriculum Project of SC and the National Art Education Association.
Nadine is currently working full time for School Specialty as a Subject Matter Expert in the Art division. She presents a wide variety of Art education workshops throughout the country for Elementary, Middle and High School teachers and Universities for Pre-Service teachers.